Date of the exhibition 

Thursday 22, Friday 23 and Saturday 24 June 2023
Opening hours: Thursday & Friday: 9 a.m. to 6 p.m. ; Saturday: 9 a.m. to 5 p.m.
Saint-Bonnet-de-Joux (71, France)
Ticketing
VISITOR - 1-day pass: €12 incl. tax
YOUNG (12-25 years old) - 1-day pass: €10 including tax - Please provide ID at the entrance to the show
GROUP (from 10 people) - 1 day pass: €10 including tax per person
PLEASE NOTE, all tickets (visitor, youth, group) will be priced at €20 on site
Under 12 years old: free
(dogs are accepted on the show site, on a leash)
Plan of the fair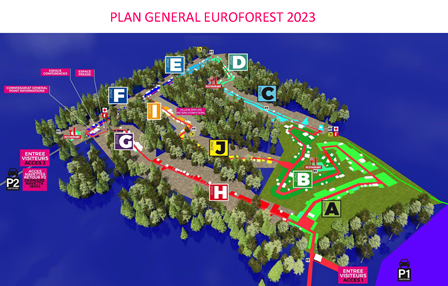 Accessibility for people with reduced mobility
People with reduced mobility will be able to park near the ticket office (reserved space).
The PRM sign must be clearly displayed on the windscreen of the vehicle to have access to this area.
We would like to point out that the car parks are in meadows and the course is on a forest path. If the organisation is informed in advance, access near the general commissariat can also be arranged by issuing a pass.
The general committee will be equipped with a BIM for the hearing impaired.
Access to the event
(Saint-Bonnet-de-Joux, 71, France)

Airport : Lyon St Exupéry (1h30), Geneva (2h)
Highway : A6
Road : N79 puis D79 ou N70 puis D7
TGV : Station Mâcon TGV (30 min), Station Le Creusot TGV (30min)
Latitude N : 46°29' 34''
Longitude E : 4°24'4 8''